Tuesday, September 20th, 2022
Hazing rights are wrong
State, campuses crack down on dangerous behavior
This year's National Hazing Prevention Week, Sept. 19-23, encourages student involvement to prevent campus deaths from initiation. Wright State University's 2022 theme for the celebration is "Raider Hands Don't Haze."
Students on the main campus covered an anti-hazing display with handprints beneath the slogan.
WSU's involvement stretches beyond the week-long celebration.
WSU requires a one-hour hazing education course for fraternity and sorority members, as well as graduate students, medical students and various club members at the main and Lake campuses.
Those failing to take the mandatory course lose the privilege of participating in social activities. WSU's Fraternity and Sorority Life enforces the mandate for those affiliated with Greek-letter groups. A call to the WSU Dean of Students was not returned by press time.
Wright State University has never had a hazing death. However, news accounts noted a fraternity member was hospitalized with a self-inflicted wound during a hazing incident in 1986.
Athletic teams also must report allegations of hazing. In 2018, WSU expelled seven male tennis players for hazing. It also cancelled the tennis season.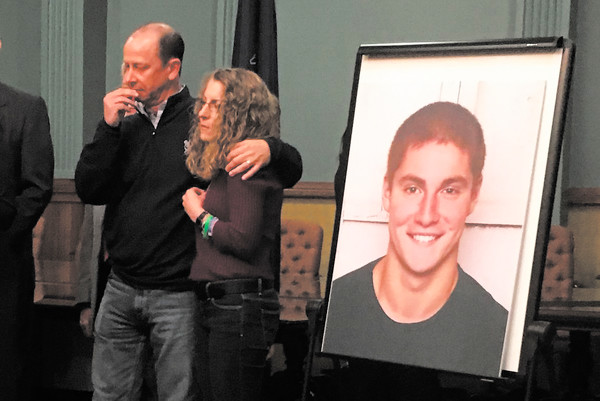 Ohio most recently experienced the 2021 Pi Kappa Alpha fraternity death of pledge Stone Foltz, 20, at Bowling Green State University. Members coerced the Delaware County resident into chugging 40 ounces of liquor at a party where Foltz learned the name of his assigned big brother. He lapsed into a coma lasting three days and died on March 21, 2021.
Five former BGSU Pi Kappa Alpha fraternity members were sentenced last June in Wood County Common Pleas Court on various felony and misdemeanor charges that included hazing, reckless homicide, tampering with evidence and serving alcohol to the underaged Foltz. Foltz's blood alcohol content was near 4.0.
Prior to that, Collin Wiant of Ohio University died pledging Sigma Pi on Nov. 12, 2018. Members "encouraged" him to inhale nitrous oxide from canisters.
After he collapsed, frightened members delayed phoning 911 for nine minutes, according to university officials. A coroner attributed Wiant's death to asphyxiation.
Nine Sigma Pi members were convicted of various misdemeanor charges related to hazing. Following the minor convictions, activist mothers Kathleen Wiant and Shari Williams Foltz lobbied for tougher Ohio legislation.
A bipartisan measure labeled Collin's Law passed the Ohio Legislature in 2021 and went into effect last October. It mandated all state colleges to require hazing education such as the course offered by WSU.
Gov. Mike DeWine signed the bill on July 6, 2021, toughening penalties for hazing into law. In addition to expanding the definition of hazing, charges for hazing can reach felony status in the event of fatalities similar to those of Foltz and Wiant.
"Collin's Law will mean greater transparency relative to hazing activity to keep individuals apprised about an organization or university before joining," said activist Lianne Kowiak, a board member for HazingPrevention.org, a sponsor of National Hazing Prevention Week.
"This means parents/individuals can make informed decisions," added Kowiak whose son, Theta Chi pledge Harrison Kowiak, died from a severe head injury during a 2008 hazing incident at Lenoir-Rhyne University in Hickory, N.C. "In addition, students will be educated on the dangers of hazing via a statewide curriculum."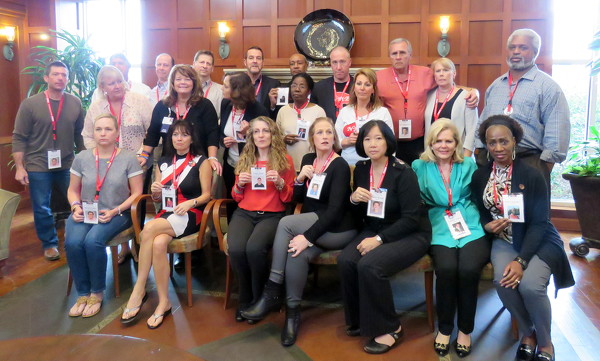 "Significantly, while Ohio's rewritten hazing law is far tougher than its predecessor, it still may need amendments attached to improve it," opined activist Evelyn Piazza, whose son Tim Piazza died from injuries following an alcohol-fueled hazing party for Beta Theta Pi at Penn State on Feb. 4, 2017.
"I don't like the way it's worded," she said in an email to the newspaper on Sunday. "I feel like (bill sponsors) used minimal wording. It's not very explanatory."
On the other hand, Piazza said she is pleased Ohio has joined about 12 of 44 states with possible felony penalties in the event a hazing catastrophe occurs accompanied by drugs or alcohol. She also appreciates language in the hazing law that requires witnesses to report hazing.
"People can no longer turn a blind eye or handle hazing lightly," she said. "It is crucial that hazing abuse be treated as a crime and that people are held accountable for their level of participation."